Today marked the end of three months of teaching in Thunderbird's pre-MBA/Masters program, a rigorous set of classes that prepares incoming students for graduate school. Wow, what a fantastic experience! Even though I've taught at T-Bird for six years, this is my first time to teach in the pre-MBA. Now I better understand how Thunderbird prepares non-native English speakers to jump into the world's top-ranked international business school.
My students were from China, Japan, Taiwan, Thailand and Vietnam, and ranged in age from their mid 20s to early 50s. Many had considerable international business experience, some had recently finished college; all were eager to improve their English skills. My class focused on academic writing, and other courses were on conversation and presentation skills, pronunciation, reading strategies and case studies.
You've heard that English is a tough language to master? Bigtime. Getting by with passable spoken English is one thing, but writing the complex sentences and paragraphs required for research papers is really challenging. For example, we spent many hours discussing the use of articles such as "a/an" and "the." To native English speakers it's easy to understand that "I read the book" refers to a specific book, but "I read a book" can mean any book. These are words that don't exist or are unimportant in Asian languages. Also challenging: plurals, tenses and homophones like their, there and they're. There are many more examples, and I truly admire my students for their dedication to learning this quirky language.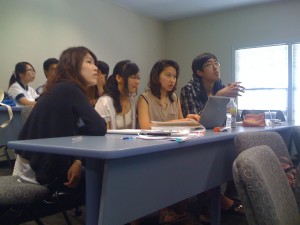 Best wishes to the pre-MBA/Masters grads. They probably taught me more than I taught them!