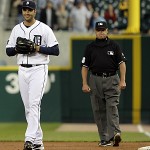 More on the lost perfect game, and the laudable reactions to imperfection. How refreshing is it to hear one of these guys take responsibility for a mistake and the other to react so graciously to disappointment? (We try to coach this stuff in the classes we teach and through the counsel we give our media consulting clients. But I'll be honest and say these candid reactions are better than anything we could have scripted.)
Jim Joyce: "I kicked the sh_t out of it. I take pride in this job and I kicked the sh_t out of and it and I took a perfect game from that kid over there who worked his ass off all night.  …this isn't a call. This is a history call."
Think BP CEO Tony Heyward could learn something from Joyce?
Armando Galarraga: "He probably feels more bad than me. Nobody's perfect. Everybody's human. I understand. I give a lot of credit to the guy saying, 'Hey, I need to talk to you because I really say I'm sorry.' That don't happen. You don't see an umpire after the game say 'I'm sorry.'"
Can you hear Roger Clemens saying that?
Sure, Joyce's remarks were raw and had to be bleeped on TV. And Galarraga's English isn't as good as his pitching. But their sentiments were real and unfiltered and more effective than anything the best PR guys could have written.