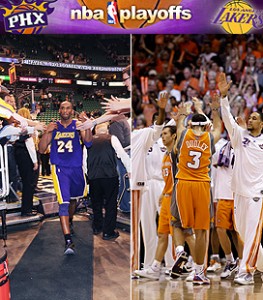 Tonight in LA: Suns/Lakers, game 1.
Nothing beats the energy in a city just before the home team enters a big series like this. In my blessed life as a sports fan I've lived in major-market cities four years – two in Kansas City and now two in Phoenix. In those four years I've enjoyed playoff runs by three teams: the '92 and '93 Chiefs (with Joe Montana), the '09 and '10 Cardinals (with Kurt Warner and Larry Fitzgerald) and now the '10 Suns (with Steve Nash and Grant Hill).
The Suns don't have a great chance to beat the Lakers, but they will win a game or two. And as the great Jim Elder said: "That's why they play the games." Okay, lots of guys said that, but nobody with more passion than Jim.  (For more on legendary sportscaster Jim Elder, please see: http://www.jimelder.org)
On a more somber note, Arizona governor Jan Brewer appeared with Sarah Palin this weekend, which will only serve to polarize the immigration debate more. It was the opposite of a smart move.
Final note – Yes the Phoenix Coyotes also made the NHL playoffs this year, and they did well. But hockey as it's played in the NHL is not a real sport. (Any sport in which fighting is legitimized, and in fact encouraged, can't be taken seriously. And come on, what are they doing playing hockey in places like Phoenix, LA, Tampa, Dallas and Nashville and not in Winnepeg and Quebec City?)